Importance of Fire Doors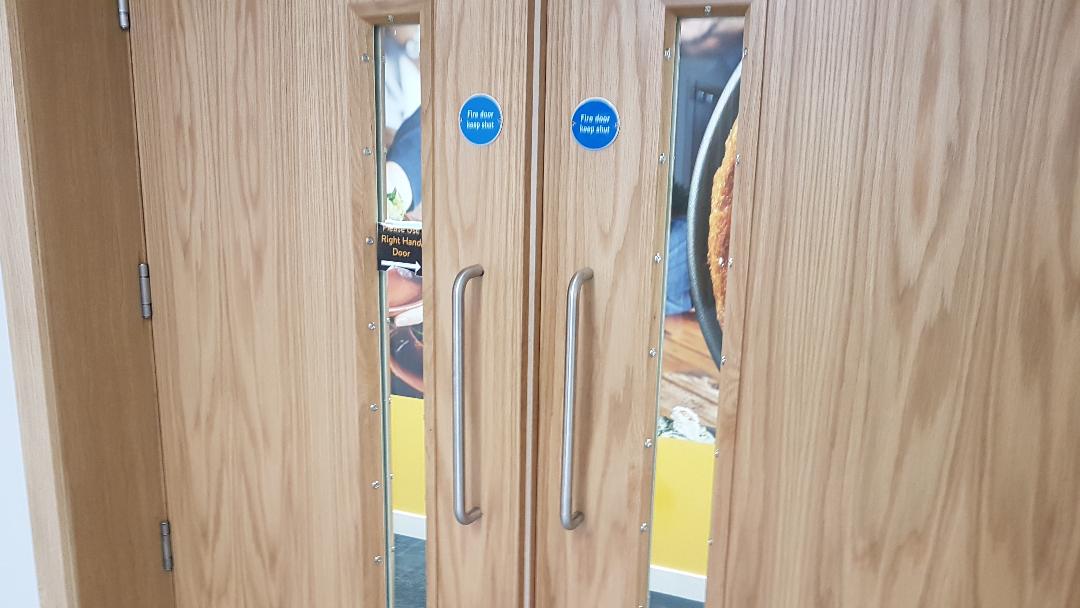 Fire doors are designed to stop the spread of smoke, fumes, fire  and heat and should conform to BS476 and BS8214. This includes any compounds used to seal the the frame or or glazing. The main types of fire door enable 30 and 60 minute fire resistance which are used to provide compartmentation within most buildings.
Fire doors that provide 60 minute resistance are rarely used on escape routes or to protect people but may be used if the preservation of property is important. For example data storage areas where documents cannot be removed in the event of fire. Some of these fire doors have the appearance of timber, but may be constructed with a mineral core. 
Fire Doors - Compartmentation to Inhibit Spread of Fire.
A fire compartment is a building or part of a building which is designed to prevent the spread of fire, to or from another fire compartment.Building regulations limit the size of compartments within certain types of building.
Single storey buildings have no limitation to the size of the compartments. Single storey industrial units may therefore consist of one large compartment. The Fire and Rescue Service often have difficulties fire fighting within such premises. 
Fire Doors - Purposes of Fire Compartmentation.
The following are the main purpose of fire doors are the following - 
* Providing a physical barrier to fire.
* Reducing the number of people at risk
* To reduce the travel distance to a place of reasonable safety.
* To reduce the extent the  spread of smoke heat and toxic gases.
* Protect escape routes from gases and smoke.
* To enable safe evacuation, particularly phased evacuation.
* To provide safe evacuation for disabled and vulnerable people.
Fire Doors Assembly
The fire doors assembly is made up of components which are required to make it perform correctly in the event of a fire. These components include the door leaf, frame, seals and essential building hardware which are referred to in the door's fire test evidence. Using the wrong components may have a significant effect on the overall performance of the fire door.
Modern timber doors fire resisting door sets incorporate an intumescent strip in in either the door or the frame. This expands at temperatures of 150 degree C and seals the gap around the edge of the door, which is the point which failure to resist the passage of flame and fire gases commonly occurs. It is very unlikely that a door would achieve a fire resistance of 30 minutes without intumescent strips fitted. Many fire resisting doors may not need to be 44mm thick or need a 25mm rebate as was specified many years ago.
Older fire doors may not incorporate intumescent strips and are unlikely to provide 30 minute fire resistance if they were tested to modern standards. In many situations a fire risk assessment may often conclude that need not be replaced it does not fit in the frame correctly. A new fire door should obviously comply with modern standards.
Smoke seals should be fitted to doors that are required to provide smoke control as well as fire resistance.
In order to function correctly the fire door must be closed when a fire occurs. The doors must be self closing or in the case of doors to cupboards or service shafts be locked shut. Rising butt hinges are not generally acceptable but Approved Document B does accept these for in the case of doors to cavity barriers. The self closing device should close the door from any angle and should be capable of overcoming the resistance of any latch on the door.