How to Prevent Electrical Fires in the Workplace
How to Prevent Electrical Fires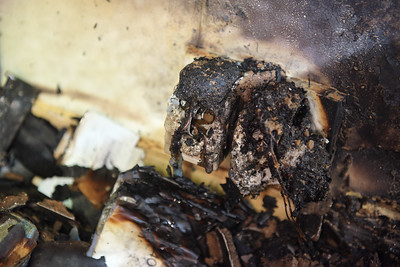 Prevent Electrical Fires - Electrical Equipment within the Workplace
The most common causes of fire within the workplace are caused by faulty or misuse of electrical equipment and wiring.The Fire Statistics from 2013/14 published by the Department for Communities and Local Government confirmed this caused approximately 2,700 fires. Another main cause was the misuse of equipment or appliances which caused approximately 2,000 electrical fires.
We recommend an excellent online course which is suitable for workers of all levels, including managers, supervisors, full-time employees and part-time staff, who are required to work on or near electricity as part of their job role. The course has been designed as an introduction to electrical safety and so no pre-requisite training is needed.The course is accredited by the CPD Certification Service as conforming to universally accepted Continuing Professional Development (CPD) guidelines.
This course is also approved by RoSPA, the Royal Society for the Prevention of Accidents, as providing quality and content-approved training. The cost is £25.00 - See full details

The main source of ignition was electrical distribution boards. In fact I know of an instance where a grub screw that wasn't tightened sufficiently during assembly. The vibration caused by the current worked it loose and the contact starting arcing generating enough heat to cause the insulation to catch fire. 
The Electrical Safety Council (ESC) stated that electrical fires from appliance misuse or 'safety blunders' have increased by over a third since 2009. 
To prevent electrical fires check electrical products have the British/European safety mark.Follow manufacturer's instructions when using a device or equipment.
Ensure portable heaters are in close proximity to combustible materials. Oil filled radiators are recommended for portable heating.
Don't leave appliances running overnight. Lookout for flickering lights, blown fuses, or circuit-breakers that trip for no reason
Don't overload sockets. Remember that outlets, extension leads, and adapters will have a limit to how many amps they can take.
Do not use coiled cables as they can overheat.The normal cable ratings assume that the wire can adequately disperse heat generated in the cable due to the current flowing. If you coil it up and use close to the maximum rating then it stands a good chance of melting the plastic insulation and then causing a short.
Always switch off equipment at the mains when it's not in use and unplug where appropriate.Protect equipment that's used in hazardous environments (e.g. extreme weather, temperatures, or corrosive conditions).
Always replace damaged sections of cable completely – don't simply repair them with insulating tape.Make sure equipment is fitted with the correctly-rated fuse.
Use proper connectors to join cables – don't use connector blocks wrapped in insulating tape or splice wires by twisting them together.
Take faulty equipment out of use immediately. Label it appropriately so no one uses it and arrange to have it inspected by a competent person.
Carry out a fire risk assessment at regular intervals and ensure employees carry out a pre-use check of equipment to check for any obvious faults to avoid electrical fires.
Following these risk-prevention methods, and other electrical safety advice laid out by the Health and Safety Executive, will ensure that equipment is used safely and does not put your organisation at risk of electrical fires starting.See Health and Safety Executive - Electrical Safety 
Regular PAT tests and Fixed Wire Tests
(
EICR
)
 help Prevent Electrical Fires 
How often should Fixed Wire Testing be carried out?
The recommended frequency of Fixed Wire Testing varies between 1 and 5 years depending upon the business type, so how often do you need to test your workplace?

Fixed Wire Testing, also known as an Electrical Installation Condition Report (EICR), checks that your electrical installations or circuits conform to the latest wiring regulations, in order to ensure you are compliant with relevant workplace safety legislation.
The frequency of testing is specified in the latest version of the IET Wiring Regulations (currently BS7671:2018) and is determined by;
The type of installation
How often it is used
The external influences or environment to which the electrical installation is exposed.
For many commercial businesses, an EICR, which used to be called a periodic testing report, will be required at the lowest frequency interval – every 5 Years. However, higher risk environments will require 3 Yearly or even more frequent testing. It should be noted that all stated periods are maximum intervals. Deterioration of the installation may indicate a need to reduce the interval between testing.
5 Year Fixed Wire Testing
Most standard workplace environments need an Electrical Installation Condition Report to be produced at least every 5 years. However, there should be regular routine inspections conducted at least annually to avoid risk of electrical fires.
Typical workplaces which require 5 Yearly Fixed Wire Testing include:
Commercial spaces such as offices and retail outlets
Hotels and restaurants (excluding spa hotels)
Schools, colleges and universities
Laboratories
Community centres, churches and public houses
Care homes and hospitals (excluding medical locations)
Halls of residence, houses of multiple occupancy.
3 Year or 1 Year Fixed Wire Testing.
Environments which, for example, are exposed to moisture, dust, extreme temperatures or which are open to the general public constitute a higher risk of electrical fires and therefore require more frequent testing. These workplaces require testing every 1 -3 years, with more frequent routine inspections also required.
Typical workplaces or environments which require 3 or 1 year Fixed Wire Testing include:
Spa hotels and leisure centres – 3 years
Industrial Units – 3 years
Theatres and places of public entertainment – 3 years
Caravans – 3 years
Cinemas – 1 year (front of house), 3 years (back of house)
Agricultural or horticultural establishments – 3 years
Medical locations in hospitals or clinics – 1 year
Swimming pools and saunas – 1 year
Caravan Parks and Marinas - 1 year
Fish Farms, Launderettes, Petrol Stations – 1 year
My Specific Business Type isn't listed?
Manufacturing, warehouses, workshops and maintenance garages generally fall under the industrial category (3 years) if they utilise heavy machinery, but if you are unsure which category your business falls into, you should contact a few qualified electrical contractors as costs can vary considerably.
PAT Testing can prevent Electrical Fires
PAT Test - Help Prevent Electrical Fires
PAT testing law requires that all landlords, employers and even self-employed individuals make sure that their portable electrical appliances are safe and are suitable and used for the purposes intended. These appliances should always be maintained properly and remain in good working order.
A PAT test is a routine inspection of some types of electrical appliance to check they are safe to use. Its purpose is to prevent electrical accidents in the workplace.Some appliances only need a reduced test, called a PAT insulation test.
What is the difference between Class 1 and Class 2 appliances?
There are a number of different classifications of electrical appliance. With new safety regulations, some are obsolete and some refer to extra low voltage power sources.
Class 1 and Class 2 appliances are all powered by mains voltages. Both classes are required to provide at least two levels of protection to the end user. You could see this as a back-up; if one protection layer fails then the second layer back-up is still in place. This makes electrical equipment safe to use. PAT testing checks that both levels of protection are working effectively.
The different ways in which these two levels are achieved within an item defines whether the equipment is a Class 1 or Class 2 appliance. Both Class 1 and Class 2 equipment require PAT testing, although it is important to differentiate the two as they are tested differently.
Class 1 Appliances.
With Class 1 appliances, the user is protected by a combination of basic insulation and the provision of an earth connection, thus providing two levels of protection. When PAT Testing Class 1 appliances, Earth Continuity and Insulation Resistance tests are carried out. So in summary:
- If it is made of metal it must be a Class 1 appliance
- If it has a three core cable it must be a Class 1 appliance 
- If the plug has a metal Earth pin it must be a Class 1 appliance.
Typically fridges, microwaves, toasters are all Class 1.
Class 2 Appliances.
In Class 2 appliances, the user is protected by at least two layers of insulation. For this reason, Class 2 appliances are also known as Double Insulated. They do not require an earth connection. When PAT Testing Class 2 appliances, just the Insulation Resistance test is carried out. So in summary:
- If the case is plastic it must be a Class 2 appliance
- If there is a double box symbol on the rating plate it must be a Class 2 appliance.
Typically computers and photocopiers are Class 2, most plastic power tools would also be Class 2.
How often is PAT Testing required?
The Health & Safety Executive provides no set rule on PAT testing frequency, only that testing should be done regularly to ensure preventative maintenance and electrical fires. The reason that there is no set frequency is because different situations arise that call for different measures. There are a number of factors that affect PAT testing frequency and it is up to each individual to determine when testing should be carried out.
Equipment that is used more should be tested more frequently to avoid electrical fires. This equipment is likely to suffer less damage than that used regularly.
If people using equipment report any damages as they become noticeable, there is less chance of a major hazard. If equipment regularly receives damage or abuse that is not reported then inspections and testing are required more frequently.
The type of equipment is a major factor in determining PAT testing frequency. Class 1 appliances carry the greatest risk of danger and should be tested more often. Hand held appliances are more likely to become damaged than those that are stationary. 
Although there are no requirements for PAT testing frequency, there are recommendations:
Offices, Shops and Hotels – Class 1 equipment including stationary and IT equipment should be tested every 48 months. Moveable equipment such as extension leads and portable equipment should be tested every 24 months. Handheld equipment should be tested every 12 months.
Schools – All Class 1 equipment in schools should be PAT tested every 12 months. Class 2 equipment should be tested every 48 months.
Public Use Equipment – Stationary and IT equipment such as computers should be tested every 12 months. Moveable, Portable and Handheld equipment falling into Class 2 should be tested every 12 months. Moveable, Portable and Handheld equipment falling into Class 1 should be tested every 6 months.
Construction – All 110V equipment used on construction sites should be tested every 3 months.
Industrial – All industrial sites, including commercial kitchens should have Portable and Handheld equipment tested every 6 months. Stationary, IT and Moveable equipment should be tested every 12 months.
Can we do our own PAT testing?
You can carry out your own PAT testing with the required training and equipment. Numerous organisations arrange courses such as High Speed training which have courses from £30.00 for training relevant to low risk premises - See full details This course will familiarise you with the task of portable appliance testing and ways you can help minimise the risk of electrocution, electric shock, and electrically-initiated fires in the workplace. You will learn about the basics of PAT so you're able to offer your support and ensure electrical equipment does not put people's health and safety at risk while at work.
Note that this course provides awareness level knowledge. In low risk environments, such as offices, it provides sufficient knowledge to allow the learner to conduct PAT Tests but, in higher risk areas, a greater level of knowledge is required and this course is NOT suitable. 
If you have higher risk premises we recommend you contact a few qualified PAT test specialists as costs can vary considerably